How I Helped [REDACTED] Go From <$100K to $15M ARR In LESS Than Six Months.
Simple questions to unleash your SaaS.
💡
Every superhero has their origin story. This is mine. This happened long before I instituted my no-NDA policy so I've had to remove the name of the company. NDAs are annoying since they often make testimonials a non-starter, but I respect people's right to privacy. I've shared as much as I could while still honoring the spirit of that agreement.
What You'll Learn:
What a broken funnel looks like.
How QUICKLY things can change when you think outside the box.
How to leverage your network power base.
How much MONEY is TRULY out there.
How a strategic advisor catalyzes growth.
Why playing BIGGER GAMES is the ULTIMATE strategy.
Playing a Losing Game.
When I joined [REDACTED] I quickly saw that they were playing a losing game.
Imagine this setup:
They were a SaaS that marketed themselves as an app/plugin for much larger companies in their app marketplace. (think: A page builder for Shopify, A loyalty plug-in for Wix, etc.).
In my first few days, I noticed from our CRM that we sometimes had 10+ human touches with a customer to get them up and running on a FREE TRIAL that would convert for < $200 a year. Then their job was to come to me and I got them up and running, and converted them to paying customers over weeks and months.
It was high-touch, high-cost, and wasn't converting for big money.
It made very little sense.
On top of this, key members of the C-Level were way too hands-on with customers.  I'd often see the Growth team (which was also the Support team –which included the CPO) high-fiving every time they spent days solving a problem that generated zero revenue.
Yikes.
My Job Was to Get The Funnel Unstuck.
My role was to onboard and activate customers and get their funnel unstuck. The problem was the funnel wasn't just "stuck"; the funnel didn't make sense.
The number at the top of the funnel, the number of total leads, weren't going to convert at high enough prices to make the use case compelling.
We had partnered with several larger software vendors to try and plug into their customer base, but that strategy failed for two reasons:
We negotiated agreements where couldn't communicate directly with their customer base. Big mistake.
We were competing against DOZENS of other apps in their marketplace. Death sentence – it becomes a lottery, not a business.
Our growth was not only capped, but it was also non-existent.
☠️
Conclusion: We were going to die.
The Pivot Happened Quickly.
I became annoying quickly. Everyone in the company knew I didn't think our business model made sense. The C-Level knew it too and got to work. They leveraged their existing power base of connections by asking these questions:
What else does our target customer need?
Who do we know that supplies it?
Can we build something for both of them?
Can we make this happen quickly?
A member of the leadership team had deep connections to the fintech industry. Within a few weeks, he'd leveraged his contacts to sign an agreement and build out a plan to redeploy our existing tech to their audience of thousands.
Once the service was built and deployed, it was switched on and WHAM – just like that we became a 7-figure company. We converted our old product to a self-serve SaaS that ran on autopilot and our pivot was complete.
In one move, we became profitable.
One Decision Is All It Takes: Decide to PLAY BIGGER Games.
Most companies are bashing their heads against the wall. They're grinding away and growing in a linear, 1-to-1 fashion. They're trying to reach the top of a mountain, only to find out that the size of this mountain is TINY compared to much bigger mountains–ie. bigger players playing bigger games.
These are the types of questions you can ask to EXPLODE your revenue and end up in realms you never imagined.
Partnering questions like:
Who has lots of traffic with few people competing for that traffic?
Can we get in touch with them? What do they need?
How can we structure a win-win agreement quickly?
Is this process repeatable?
Or more general questions:
What else do our clients need?
What's it worth to them?
Who is providing it?
Can we provide it?
How can we paint the value to a client?
Then rinse and repeat. You keep asking new questions, keep knocking over new dominoes, and before you know it you have a massive revenue generating machine on your hands.
When you ask questions like these, things can change very, very quickly.
---
Are You A Business Owner Who's Looking To Grow SIGNIFICANTLY In The Next 90-Days?
Here's exactly how I can help you add up to $2M+ to your MRR in 90-Days.
Do you ever worry that you're undercharging?
If you want a step-by-step formula you can follow to raise your prices without hurting demand then you'll want to grab your free copy of my newest book: Triple Your Prices: How To Raise Your Prices Without Hurting Demand.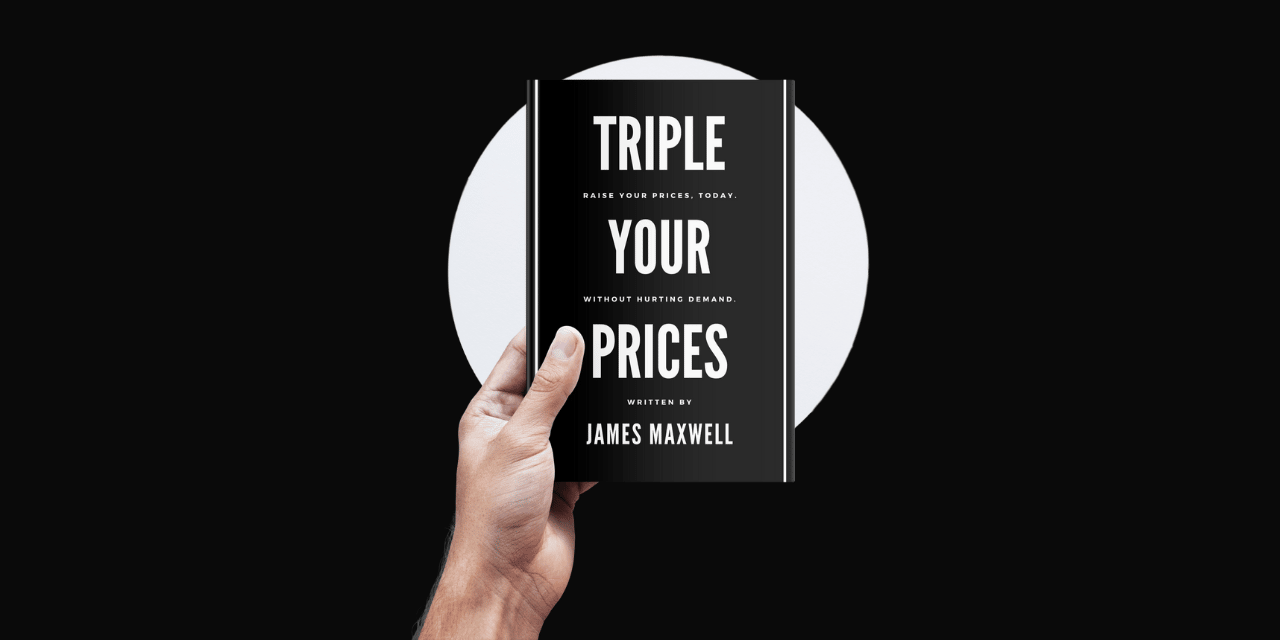 About Me: Hi, I'm James. 👋🏻
I'm building a Strategic Revenue Advisory firm that provides SMBs, SaaS, and Solopreneurs with the opportunity to bring their biggest ideas to life. Here's how I can help your business.