How I Spent Q4.
For anyone interested in learning more about how I spent the end of the year and what I'll be working on in 2022.  
My Story So Far.
My background is in marketing & strategy. Except for a two-year stint as a teacher in Taiwan, I've worked in SMBs and startups. I love the challenges of smaller companies as they try to make it big.
I ended up working in every department you can think of, outside finance and accounting, and gained a holistic picture of what makes a company tick.
In 2016 I set off to do what I'd always been too afraid to do: get into business for myself. As I tested offer after offer, I got closer to what I wanted to do. I was a copywriter, a website designer, and even a recruiter and career consultant.
Early Traction.
I got serious about LinkedIn in June(ish) of 2021. It's crazy to think about how little I had built at that time. I secured some early sales through my career coaching business, but I found working in a niche to be way too restrictive.
I had an idea for compelling content, carousels, and had a plan to build the audience quickly, and eventually start monetizing with courses. It worked immediately, and within a month I'd earned over 1M impressions and gained a bit of audience traction.
I told myself I'd focus on growing an audience and would monetize later. However, later never came. On a deep level, I wasn't satisfied building courses. I felt like I was on a hamster wheel. The economics didn't make sense – I wanted more.
I wanted something much, much bigger; but I had no idea what it was. I knew that staying on LinkedIn and doing what I was doing wasn't going to get me there.
I made some big sales towards the end of the quarter, and then decided to take Q4 to build the next chapter.
So I Stepped Away And Read. A Lot.
Last January, I set what was, at the time, an insane goal to read 52 books. One book a week. I'd been a reader most of my life,  but the idea of structuring my reading and achieving that many books sounded like a pipe-dream.
Suffice to say, after I took a step back in October, I ended the year on 140 books.
And it completely changed my life.
I Was Studying The Wrong People.
When we get on social media a lot of us behave, understandably, like lemmings. We mimic what the other person is doing. We create similar products, we use a similar voice etc. – a process called modelling.
There's nothing wrong with this process at small scales, but when everyone is copying everyone, the result is an oozing mass of shit that looks the same.
But I wanted to do something different. I wanted to be among the super rich. I wanted to leave a legacy. I wanted to impact my community. Nobody in my network had done that on the scale I was dreaming of so I began looking towards other people. I read millionaires and billionaires. Warren Buffet, Steve Jobs, Grant Cardone, Mark Cuban, Howard Schultz, etc.
This is where I reconnected with the goals I had as a child, a deep desire to build great, thriving companies. Quite honestly, I had forgotten it was possible.
I Learned About Areas That Terrified Me.
For example: selling. Can I do it? Yes. Have I ever studied it? No. I was always under the impression you were either talented or you weren't.
That was a big, big mistake.
I picked a sales trainer who resonated with my values, and read everything they'd written. Then I read it again, and again, and again. I sold to myself on hikes. I sold to myself in the mirror. I sold to myself in my journal.
I developed a system and a style of my own.
For Most People & Businesses, The Economics Of What They're Doing Don't Make Sense.
What I learned is that most people, and most businesses, are thinking way too small. Even in their best-case scenario, they don't make a dent in the universe. They will, best case, rolled up into another company or worse case tread water indefinitely. They're also stuck on the hamster wheel.
They're not pricing properly.
They don't have enough products in the market.
They don't use referrals well if it at all.
Their sales process doesn't scale and leaves $$'s on the table.
Their hiring strategy is archaic.
Their company culture is vanilla and non-existent.
They aren't producing stars who are earning the spotlight.
The Solutions Could Not Be More Simple.
I identified what was missing in the seven fundamental areas of business (I call them 7 levers) that, if activated correctly, set a company up for long-term success.
As developed these levers, the ideas took on a momentum of their own. I ended up creating my own lexicon of mantras and slogans. Things like:
Fill the pipeline, fill the pipeline, fill the pipeline.
Sell a billion things, to a billion people, a billion times.
Price wide, sell deep.
Within a few weeks I had enough momentum to create my first book: Triple Your Prices – a treatise for SMBs and solopreneurs to rehabilitate their ailing price/product mix with a few simple decisions.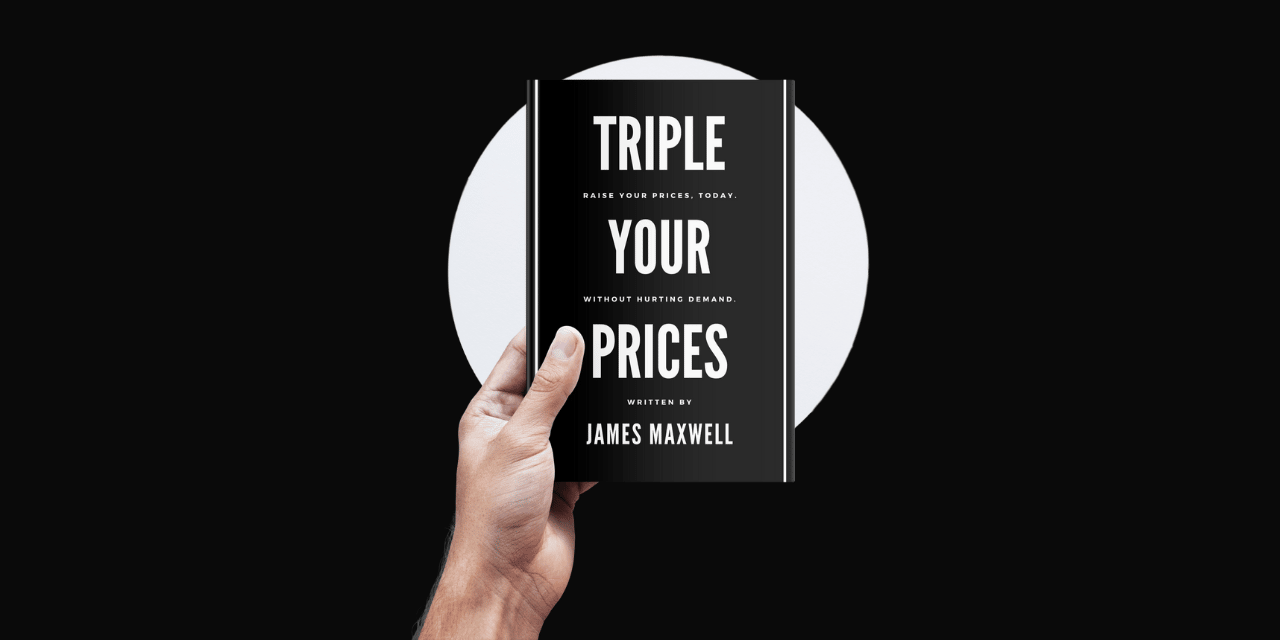 ---
The Birth of My Strategic Advisory.
I decided the best way to bring these ideas to the market, at scale, was by launching a long-term, hands-on strategic advisory that focused on top-line revenue before everything else. Revenue is the only area of the business with an infinite upside – and that's always gotten my attention.
I work with SMBs, Start-ups to scale their business 90-days at a time.
I provide condensed packages to smaller orgs and solopreneurs.
My Mission + Purpose
Provide visionaries with the means to avoid the allure of mediocrity and help them actualize their dream of leaving a lasting legacy here on Earth.
"Do not let the hero in your soul perish, in lonely frustration, for the life you deserved but never have been able to reach. Check your road and the nature of your battle. The world you desired can be won. It exists, it is real, it is possible, it is yours."

-Galt's Speech, Atlas Shrugged
---
Referral Program
If you know anyone that is looking to explode their business, get in touch.
---
What's Next?
I'll be launching my second (and hopefully third) book this month.
I'll be opening up a free mentorship program to give back.
I'll be launching Knowaholic e-Learning, to deliver my ideas at scale.
And much, much, more.
---
A Special Offer For You.
I might be nuts, but If you've made it this far, chances are I've been speaking to you the whole time. For the month of January I'm offering you 25% off your first invoice with me as a way of saying thanks for your support thus far – just mention this offer to me via DM or on our first call together. I have programs tailored for SMBs/startups and solopreneurs.
You can also take advantage of my free One Big Thing™ consult below.
---
Further Reading: