Price Audit: How 7shifts Can Capitalize On Their Position As a Thought Leader.
Some quick pricing wins for 7shifts based on a cursory review of their website.
Today we'll be providing a pricing mini-audit for 7shifts, a Restaurant Scheduling tool base in Saskatchewan, Canada. 🇨🇦
Objectives
Our goal (as always) is twofold:
Give you a taste of what a comprehensive price audit would look like.
Look for opportunities to optimize the following 4 metrics:
ARPU/ARPC
✅
ARPU: Average Revenue Per User
A rough measure of how much we're earning per user/client/customer.
LTV
✅
LTV: Lifetime Value of a Customer
A rough measure of how much we're earning from a user/client/customer over the course of their time with us.
Velcro Score™
✅
Velcro Score™
A qualitative/gut-feel metric we've created in-house that determines how "sticky" a business is based on all of the challenges it solves, often (but not always) relative to a major competitor.

(ex. Netflix has a low velcro score because it only offers one service, Amazon has a high-velcro score relative to Netflix because it offers millions of products and services in addition to Prime Video.)
Untapped Revenue™
✅
Untapped Revenue™
A quantitative measure of how much revenue is left on the table due to unrealized opportunities or a sub-optimal pricing/product mix.
---
7shifts Price Mini-Audit: Watch Now
🕙
Short on time? You can read a brief summary of the audit below.
---
Summary Of The Pricing Mini-Audit.
A comparison of what I liked, and what I'd recommend changing.
What I Liked
✅ This audit is tough because they're doing a GREAT job with fundamentals; a lot of the low-hanging fruit has already been addressed. #ChallengeAccepted 🔥
✅ Extremely focused on solving their customer's problem.
✅ Positioned as a thought leader.
✅ Multidimensional and solve many problems re: restaurant staffing.
✅ Tons of resources. (ex. Podcast, academy, etc.)
✅ Variety of customer personas. (ex. chefs, owners, execs.)
✅ Selling add-ons; significant boost to ARPU.
✅ Free trial doesn't require a credit card.
Opportunities For Improvement
❌ Free plan represents a big missed opportunity.
❌ Free plan cheapens the product and undermines the mission.
❌ Free plan rewards/creates price-resistant buying behavior.
❌ Not charging for academy courses = major revenue missed.
Quick Wins/Recommendations
Opportunity #1
💡
Launch Paid Self-Serve Courses/eLearning materials.
Use a service like Podia to host self-serve courses, learning materials, and possibly some white-glove/hands-on consulting.
Products can range from $9 to $90,000.
A course purchased at $1950 can ~3-5x MRR for customers with fewer locations.
Self-serve products will scale extremely well.
Consulting should be reserved for the highest end clients to remain profitable.
Group/cohort-based learning is preferred for classes with a live-teaching component in order to keep overhead down and maximize profitability.
Example product/pricing mix:
$9.99 eBooks
$99 templates/worksheets/reference guides etc.
$1950 restaurant management course
$5000 7-shift hospitality/management certification course (self-serve)
$15,000 certification + consulting/coaching
$90,000 white-glove consulting services for large franchises (ex. 20+ locations)
Opportunity #2
💡
Tweak The Free Plan: Convert It Into A Paid Plan
Currently restaurants with a single location have their plan comped.
Consider putting a time limit on this plan.
(ex. Free for the first 3/6/12 months!)
After that date you can begin charing $19.99
If even 5% of your 700,000 stores convert this is almost $8M in revenue.
---
Do you ever worry that you're undercharging or leaving revenue on the table?
If you want a step-by-step formula you can follow to raise your prices without hurting demand then you'll want to grab your free copy of my newest book: Triple Your Prices: How To Raise Your Prices Without Hurting Demand.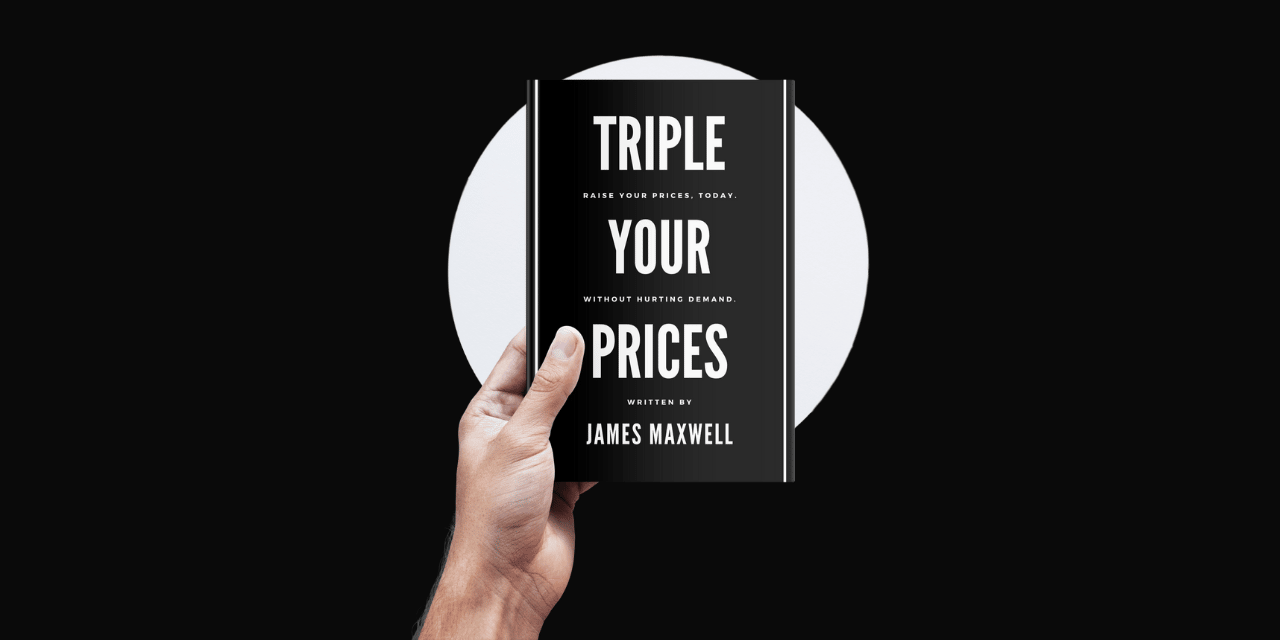 SMB, SaaS, & Startups.