An overview of my services, fees, and financing options.
I'm Revenue  Obsessed.
I provide SMBs, SaaS, and Startups with the opportunity to bring their biggest ideas to life. I can operate as a Strategic Revenue Advisor, a fractional CRO, a Board Member, a front-line implementation advisor leading your team– whatever you need.
Here's a sketch of a few ways I might help:
Bring 7 new products & services to market in 7-days.
3x your prices without impacting the bottom line.
Cut your sales cycle in half and lower your COA.
Build a robust pre-sale and post-sale referral program.
Hire and scale a team of sales reps in 90-days.
Build a passionate, Culture 500 worthy team.
Leverage star power and social selling.  
💡
If it impacts the revenue of your business, it's in my domain.
---
Two Easy Ways To Work With Me
I offer countless tailored solutions depending on what you need – but this gives us a good starting point.
Intensive Project-Based: We'll implement each of the major revenue levers in 90-Day sprints. I can provide the strategy and support you with the implementation or I can work with you on the frontlines of your organization.
Retainer Based: A flat-fee annual retainer that guarantees you a specific number of meetings in addition to ongoing support with strategy and implementation across all seven areas of focus.
---
The Seven Levers
Pull the biggest levers, in the right order.
I want you to experience huge results ASAP. The easiest way for me to do that is to move your business through each of, what I call, the Seven Levers.
I focus on 7 areas (what I call the 7 levers) – Price, Product, Referrals, Hiring, Culture, and Starpower → All of which drive the top-line revenue of your business.
In 99.99% of cases, we begin with the first two levers: Product & Price. This is the biggest lever we can pull to ensure you're maximizing the potential of each sale.

---
Tangibles & Intangibles
What follows is a breakdown of the Seven Levers and what a sample path through them might look like. I've broken them down into two phases: tangibles, things that have an immediate impact on top-line revenue, and intangibles, things that matter just as much, but whose influence might take more time to be felt.
---
Tangibles: Levers One Thru Five (L1-L5)
Pricing, product, referrals, sales, and talent.
Recommended Path
We can start wherever you'd like, but, as mentioned, 99.99% of the time, your business will most benefit by focusing on the first two levers: Price & Product.
Start With Price (L1)  & Product (L2)
The first two levers we pull are the design and implementation of a Full Spectrum Pricing strategy for your business.
Double/Triple Your Prices: Optimize your existing pricing strategy and look for opportunities to layer on new products and make everyone a buyer.
Product Roadmap: A roadmap of new products you can implement ASAP so flood people with ways to buy from you.  (Increase Purchase Freq. & Avg. Sale),
Build Evergreen Products: Take advantage of products you can build once, and sell forever. (ex. Infoproducts, books, video. etc.)
Then Drive Referrals (L3)
Once you're products and price are set, we want to focus on filling your pipeline. After pricing, the next biggest opportunity for a business is referrals.
Front-end: Focus on generating strong referrals before the sale.
Delivery: Optimize delivery to ensure a remarkable customer experience.
Back-end: Reactive lapsed customers, or tap existing customers for referrals.
Explode Your Sales Efficiency (L4)
Once we've got a product mix that makes sense, and we no longer have a leaky bucket (ie. referrals) you're ready to explode your close rates and scale your efforts using funnels and lead magnets.
Create a sales playbook: Codify your approach, objections and arm your sales team with a litany of closes.
Develop sales funnels + landing pages: Scale your sales and build a high-velocity funnel to deliver lead magnets and low-touch products.
Train your sales team: Provide 1-on-1 coaching to take your sales team to the next level with tailored plans.
Social selling: Turn your sales team into a social selling powerhouse. They'll learn how to build relationships, promote themselves, and sell your products.
Talent: Hire Great People (L5)
Once your funnel is optimized, the next priority is getting superstars into your organization. Modern hiring is a mess. Avoid the mistakes everyone else is making and you'll stand out.
Talent Pipeline: Don't start from scratch every time you need to fill a position. Build and nurture a waiting list of people who are excited to join your team and help you build your vision.
Interview Design: Build interviews that test the suitability of incoming employees while adhering to all ethical and legal constraints.
Interview Execution: As a former recruiter and career coach I'm happy to sit in on or execute interviews to help you actualize your strategy.
Transition Training: Empower employees who aren't a fit (or even candidates who weren't hired!) with tools, training, and resources to find employment somewhere new.  Watch your reputation skyrocket.
Love them as much on the way out as you did on the way in
-Jack Welch
Intangibles: Levers Six And Seven (L6-L7)
Build a great culture, generate brand equity, and build stars.
Culture (L6)
The holy grail of every business is an incredible culture. With the right people, in the right place, doing the right things, your company could one day become a destination employer on lists like Fortune's 100 Best Places To Work.
Executive Coaching: Help your leaders lead. Learn how to negotiate conflict,  build incredible teams and cultivate an environment that lets them flourish.
Values & Diversity: How to get everyone marching to the same drumbeat while being free to explore their potential at work.
Stars (L7)
Thought leadership, brand equity, and brand ambassadors.
Social Media Presence: Help A-players in your organization develop an online presence to explode your reputation online
Talent Pathways: Your business needs to have enough room in it to let other people realize their dreams.
Podcast + Video: Create an online brand (that doubles as a sales channel) to cement yourself as a thought leader in the industry.  
---
Fees + Financing

Pay-For-Work (PFW): Project-Based
These 90-day projects will help you design a strategy or implement a deliverable in a specific area of focus. (L1-L7). You can choose to work on several areas at once, in the order you choose. These are a great way to begin our working relationship.
Pay-For-Access (PFA)
This is an ideal way to ensure ongoing support from me – ie. strategy and implementation advice. Each level of coverage guarantees a minimum meeting cadence, in addition to ongoing support.
Flexible Financing Options
I never want money to be the reason we don't work together. I'm open to working together to find a price that lets us work together. Book a call or email me to chat.
---
Where To Begin
I recommend we begin 0ne of three ways:
FSP - Strategy Only: This base package will focus on a tailored Full Spectrum Pricing strategy and support while you roll out your Price & Product (L1 + L2) strategy over 90 days or less.
FSP - w/ Implementation: I'll help you implement FSP on the frontlines of your organization over 90 days.
Retainer: We'll get set up on a weekly or daily retainer to help you begin strategizing and implementing across all 7 areas of focus. (L1-L7)
---
Book A Call To Get Started
To get started, book a call or take advantage of our free audit (One Big Thing™) – after a 15-minute call, I'll give you one action item you can implement in your business as soon as you hang up the phone.
---
Free Book: Triple Your Prices.
Download my free book to start applying my philosophy in your business today.  This is a simplified walkthrough of Price & Product (L1 + L2) and will teach you everything you need to optimize your price/product mix.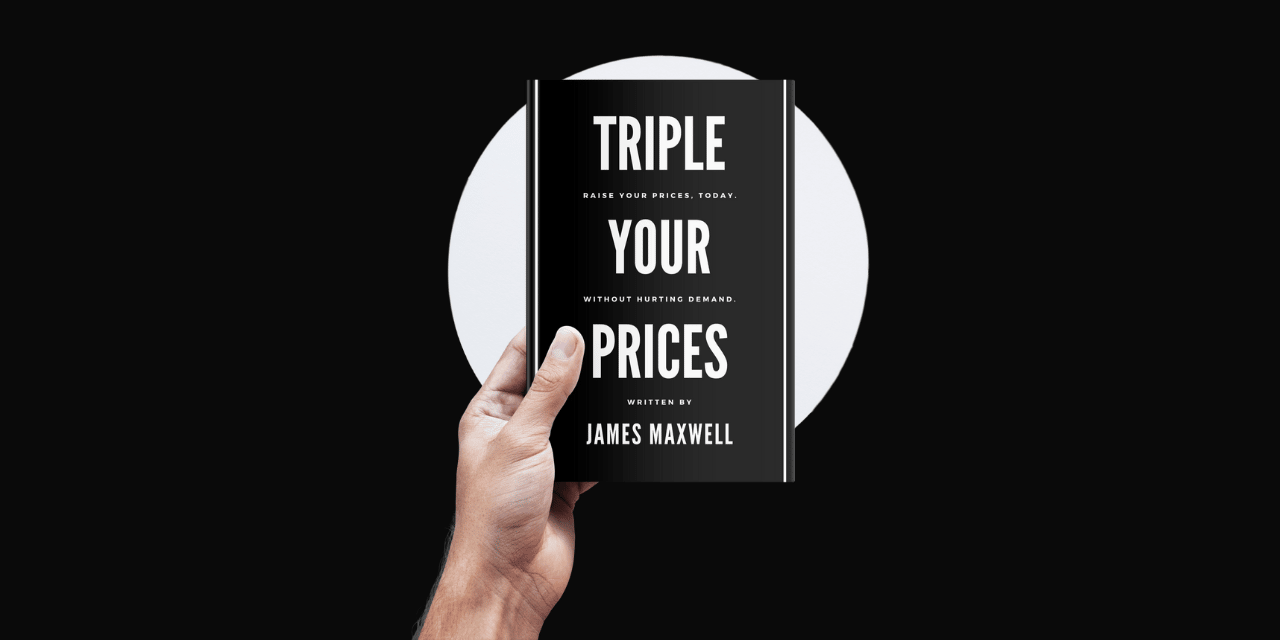 Not Sure Yet?
Check out some of my writing to learn more about my approach.